A tricky question ALL business owners will have to ask themselves. Thankfully though, the answer is simple….
Both! End of blog.
Ok, let's flesh this out so the time you take to read this is worthwhile.
It doesn't matter whether you have dreams of dominating the world or are just happy to keep your lifestyle business going – if you want to stay open for business, let alone grow, you have no choice but to do everything you can to keep customers as well as introducing new ones. Despite your best efforts, you will lose customers through reasons outside of your control (ideally, not for those within your control!) so, just to stand still, you need to replace that lost business with new custom – it's the leaky bucket analogy: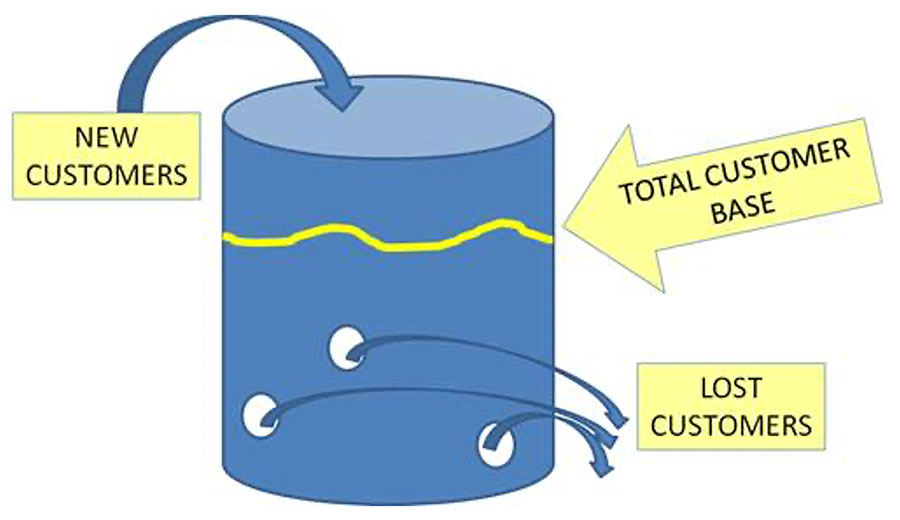 Multiple studies and research show us that it's between five to 25 times more expensive to win a new customer compared to keeping an existing one. That stat shouldn't scare you from consistently working on winning new customers, but it does reinforce the point that there's no point at all in having a strategy for winning new customers if you don't have a strategy for retaining their business and vice versa.
When the time comes to start working on these strategies, the advice is certainly to work on them concurrently as one feeds the other. For example, understanding what's going to help attract new customers to your business is going to help give you clarity as to what's going to help keep them as customers. Knowing the best places to market to new customers is going to help you establish the best ways to market to your existing customers. Identifying the critical problems that you can solve for new customers is going to shape how you continue to resolve critical problems for existing customers. Can you smell what I'm cooking? If not, Chef Owain is here for you…. just ring that bell.
If you're in business or even if you're thinking about starting a business, the main concern you have is how you're going to consistently onboard new customers and then, once onboard, how are you going to keep them as a customer. Sure, your product or service is important, staff are important, and we can't ignore that your finances are important too but they're all irrelevant if you don't have customers! Your business simply does not exist without customers. To prevent the typical 'feast or famine' trap many businesses find themselves in, you need a clear strategy that guides you as to how you're going to consistently welcome new customers and, how you're going to provide them with the very best customer service and experience so that they never need to look elsewhere.
I recognise the task of thinking carefully about both and documenting it can be very daunting – you won't be the first to feel like that and you won't be the last. For the sake of your well-being and the future of your business, don't put it off though…. you won't have a business for much longer if you do.
If you need advice on this topic then don't hesitate to get in touch: owain@dremur.co.uk